Fast ASP.NET Websites has been released!
A rather large and suspicious looking box arrived at my house yesterday. To my surprise, it was the first few copies of Fast ASP.NET websites. These have just rolled fresh off the press courtesy of Manning!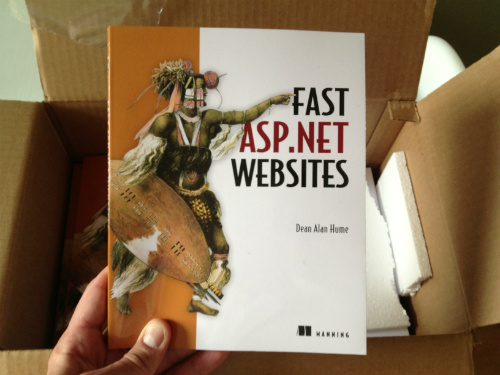 If you aren't familiar with the contents of the book, it is a step-by-step guide that shows you how to improve the performance of your ASP.NET websites. Each chapter comes with an easy to follow coding sample that you can build upon as you progress through the book. The code samples are written in both ASP.NET MVC and ASP.NET Webforms, so you can follow along regardless of your coding preference.
The book is available for purchase today via the Manning website or Amazon. I hope you enjoy reading this book as much as I did writing it!
Comments
Pro IT Online - 9/21/2013
Hi, Can you please give some brief about your book? Is it preferable for beginners as well?
Dean Hume - 9/22/2013
@ProITOnline - In short, the book is aimed at ASP.NET developers that are looking to improve the performance of their applications. The book takes you through a step by step guide on the basics of building a super fast web application. It is aimed at intermediate developers.
http://devtools.korzh.com/ - 10/19/2013
Great news!
---
Add your comment