Professional Asp.net Mvc 2 Book Giveaway
If you haven't already read Professional Asp.net Mvc 2, you should really check it out. Luckily though, I also have a free copy of this freshly released book to give away. If you are new to Asp.net MVC, this book is a great way to get you up to speed and help you build real world websites with the framework. It is written by a host of great authors such as Jon Galloway, Phil Haack, Scott Hanselman, Scott Guthrie, and Rob Conery. The book covers pretty much everything you need to be a MVC 2 ninja!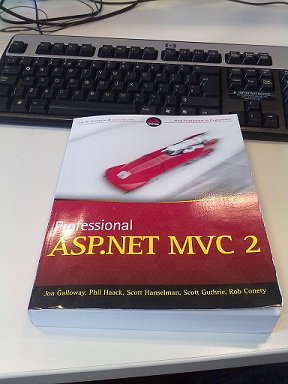 So, it's really easy to win this book and there are three ways to win. You can either comment on this thread, you can subscribe to the RSS feed or via email, or you can retweet this page's url. If you comment on this thread, please let me know what aspects of this site you would like to see improved, any interesting topics that you would like to see on the site, or just to say hi really! If you aren't already subscribed to the site, you can do so by clicking here for RSS and here for email. Also, if you comment on this thread please be sure to include a valid email address so that I can get in contact if you win!
And finally, the winner will be chosen at random on the night of Sunday 01/08/2010.
Good luck!
Comments
Flash - 7/14/2010
Just found your blog through DotNetShoutouts. Figured I'd throw myself in the mix for the book. Hadn't had a chance to go through your site but I plan on following you and reading over some of your posts.
Mark Orlando - 7/14/2010
I added your RSS feed to my daily download. When I looked around your site I saw you created it using MVC2, SQL Server 2005 and SubSonic. I'd really like to see a step-by-step series on how to build this site using MVC 2. BTW, please add me to the giveaway for the ASP.NET MVC 2 book. Thanks
Darek - 7/15/2010
For me it will be great if you will made this improvements on site: Adding "back" link in post: now to step back I must use my browser back btn, Adding clickable logo: to back to index, Adding link to your post title (in post view), ang give a chance to write more characters in comments. Great Blog!
Andrew B - 7/15/2010
Hi! Like the site - saw the book offer on twitter via @ArranM Sites good, hard to navigate around though - could do with some of the traditional next, previous, category, tag style nav elements
Paul Irvine - 7/15/2010
Just found your blog, after following the link in a tweet, and a chance to win a book? Count me up for that. I've been having a play with ASP.NET MVC, and it would be great to have a book I could thumb through, rather than being sat in front of the computer all the time.
Sara - 7/16/2010
Hey, I'm sure we'll be chatting a lot more but just thought I'd drop a line so I had a chance to win the book :D. You should hook gravitar up with this! Sara
Simon - 7/16/2010
Wow, I'd love to win the book please. Oh, and hi!
Paul - 7/16/2010
nice way to generate some marketing, lol.
Jag - 7/16/2010
Well you are definitely getting the interest generated. I got this through Rory's group mail. Hope you put my name in the hat :-)
Dmytrii Nagirniak - 7/19/2010
Hi, I like that book :) So my suggestions: 1. The logo should be a link to the root page. 2. The "Blog Post" in the banner content reads confusing. 3. A list of recent posts on the side would be good. 4. Just a bit nicer logo and header (the rest is good in a simple manner). Cheers, Dmitriy.
Dmytrii Nagirniak - 7/19/2010
Also for the comments: 1. Remember name/email. 2. Post after hitting "Enter" (plain submit of the form). 3. Multi-line comments should be multi-line.
Simon - 7/22/2010
Heya Dean. great informative site! Good for a beginner like myself in MVC/.net to get a decent, well informed start. Good luck me! ta
---
Add your comment