I am very proud to announce that I am writing a new book entitled Progressive Web Apps. I started working on it during late 2016 and the book is shaping up nicely! I will be the first to admit that I am a big fan of Progressive Web Apps, and I truly believe that they are a game changer for the web.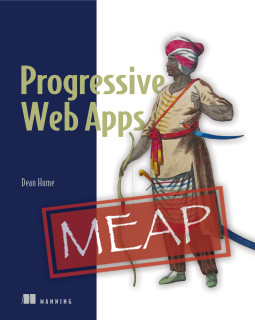 If you aren't familiar with Progressive Web Apps, don't worry - you'll begin by getting the big picture of what Progressive Web Apps are, how they work, and their benefits. Progressive Web Apps takes you on a step-by-step journey through real world examples and teaches you how to build fast, engaging, and reliable websites. You'll explore the different approaches that you can use to build your own Progressive Web Apps (PWA's).
I want this book to be a hands-on guide that you can flip to any chapter and learn something new. This book is written with stand-alone chapters, letting you learn about particular features of interest without having read previous chapters.
As you progress, you'll dive into each of the key features that make up a Progressive Web App. We'll also be dissecting real-world PWA's in order break down each of its elements and learn more about them. My goal is that by the end of the book, you'll be ready to build better web applications and improve the user experience.
The book will be published by Manning Publications and is officially available in early summer 2017. However, if you would like to read chapter-by-chapter while it's being written and get access to the final book as soon as it's finished, it is available on Manning.com via the Manning Early Access Program - anyone can sign up. I look forward to releasing it to you in early summer 2017 - I hope you enjoy reading this book as much as I am enjoying writing it!