If you haven't already read Professional Asp.net Mvc 2, you should really check it out. Luckily though, I also have a free copy of this freshly released book to give away. If you are new to Asp.net MVC, this book is a great way to get you up to speed and help you build real world websites with the framework. It is written by a host of great authors such as Jon Galloway, Phil Haack, Scott Hanselman, Scott Guthrie, and Rob Conery. The book covers pretty much everything you need to be a MVC 2 ninja!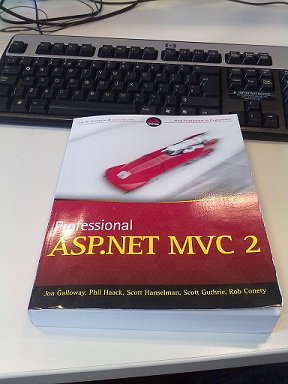 So, it's really easy to win this book and there are three ways to win. You can either comment on this thread, you can subscribe to the RSS feed or via email, or you can retweet this page's url. If you comment on this thread, please let me know what aspects of this site you would like to see improved, any interesting topics that you would like to see on the site, or just to say hi really! If you aren't already subscribed to the site, you can do so by clicking here for RSS and here for email. Also, if you comment on this thread please be sure to include a valid email address so that I can get in contact if you win!
And finally, the winner will be chosen at random on the night of Sunday 01/08/2010.
Good luck!