SmushMySite - Image Optimization Tool Update
The SmushMySite tool has just been updated with a load of new enhancements. For those of you that aren't familiar with the SmushMySite tool, it is a free image optimization tool that takes advantage of the Yahoo Smush.it™ service. It is a quick and easy way to optimize all images on webpage, or all images on your site. You simply enter the URL of the page with the images you want to optimize and it will process and spit out all the optimized images! If you want to optimize your entire site - you simply point it to your site's sitemap - it's that easy!
The latest release now has support for CSS images, which means it will now check your URL for any images that are referenced via CSS and optimize them too, making your life a lot easier!
For more information, please check out the original article.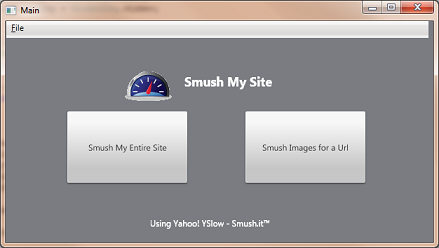 The latest release has:
- List item
- Support for CSS images
- Update with Silverlight Jetpack Theme
- Better validation for URL's and Extensions
- Now handles ASP.net images - input type="image"
- Better checks for duplicate images
To download the latest version, please visit http://smushmysite.codeplex.com/